The output power of portable power generators ranges from a few hundred watts to 10kW or even more for bigger systems. These tiny and compact units are often utilized in residential areas for emergencies as well as recreational purposes such as fishing, hunting, and camping.
The smallest power generators feature internal combustion engines that burn gasoline and spin an electric generator that generates electrical energy. The electricity will subsequently be transmitted to the external load through built-in controller electronics and power outlets.
Even the lightest power generators can be quite noisy, and they must be operated outdoors. This is due to the fact that they all have internal combustion engines, no matter how little.
Home Carbon Monoxide (CO) detectors are also strongly advised if possible. Power generators emit poisonous and extremely hazardous carbon monoxide fumes when fuel burns, severely harming humans and animals.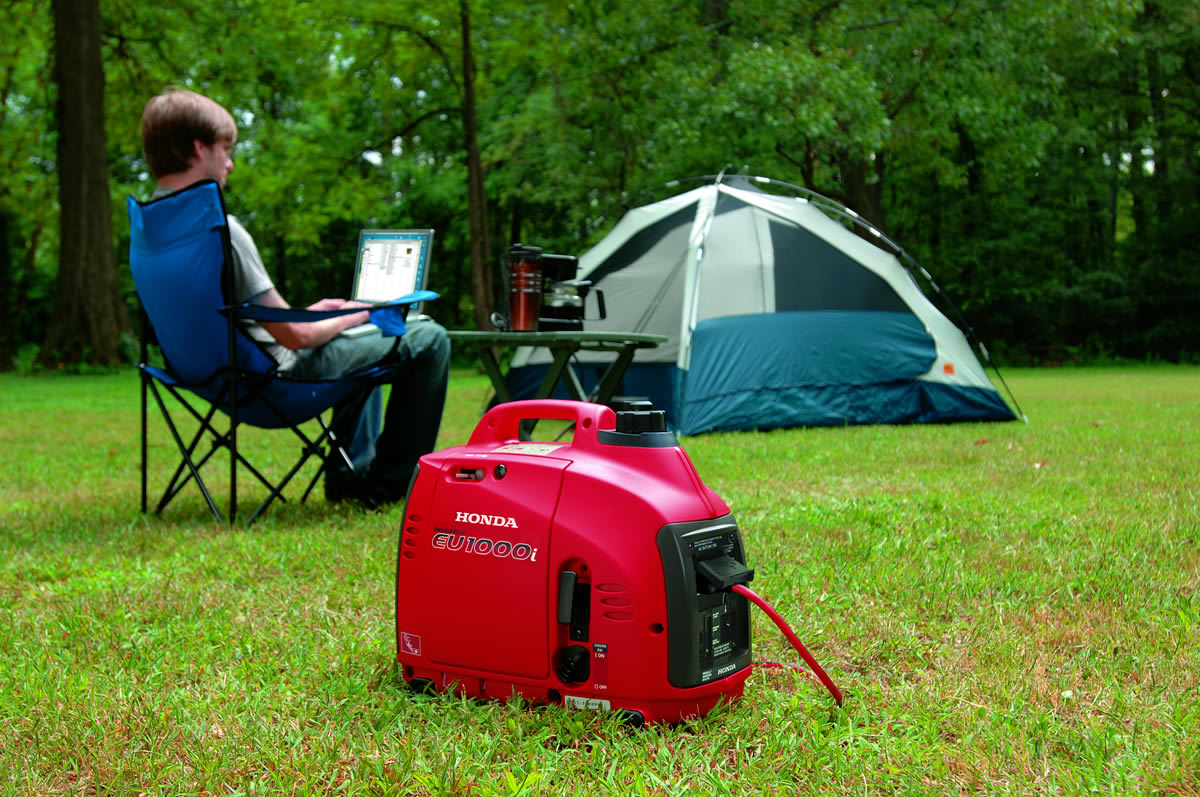 The Honda EU1000i is one of the greatest compact power generators, with a 0.55-gallon tank and a maximum average power output of 900W. When pushed to its limits, the Honda EU1000i can generate 900W for 3 hours while producing 50 dB of sound, which is quite calm for a gasoline-powered generator.
When the external workloads are set to 225 W, the lifetime is 6.8 hours with just 42 dB of noise (just a few meters away, and people will not notice if the unit is running, especially in a crowded city). In this example, 0.55 gal of gasoline produces 1530Wh.
The Honda EU1000T1AG has a 49.4cc Honda GXH50 combustion engine and weighs 28.7 pounds dry. The manual recoil engine starting method allows you to run this generator without the use of any additional electronics.
This device has the advantage of being a very quiet power generator. Its noise levels are 50 dB while operating at full load. And at 25% capacity, the noise level is about 42 dB. This is critical while operating near residential areas or when camping.
Yamaha EF1000iS
The Yamaha EF1000iS has 900 Running Watts and is powered by a 50cc four-stroke motor.
The gasoline tank holds 2.5 liters. This should be enough to power the generator at 25% capacity for 11.9 hours. That is 225 watts for over 12 hours on a single tank of gas, which is not a bad number at all!
It has two 120V 15A outlets and one 12V 8A DC outlet. In addition, the Yamaha EF1000iS has a low oil alarm system and an overload safety system to keep the unit healthy. It also has a 3-year consumer warranty.